Estate Planning for Retirement Benefits in a post-SECURE World
Date:
Tuesday, September 21, 2021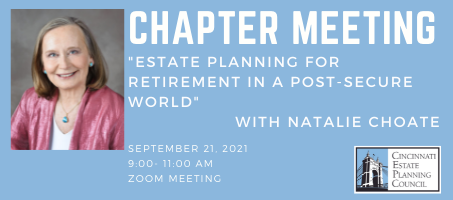 The SECURE Act has upended classic estate planning techniques by replacing the "life expectancy payout" with the "10-year rule" for most beneficiaries. What are the planning options still left for a client leaving retirement benefits for the surviving spouse, minor children, disabled beneficiary or others? The effect on trust drafting….and are there ways to "beat" SECURE?
Tuesday, September 21, 2021

Login information and individual invitations will be sent to those registered prior to the event.

12:00 PM ET, Monday, September 20th

Note: refunds will not be given for cancellations received after the deadline.


2021-2022 Season Sponsor

We are proud to welcome the

Greater Cincinnati Foundation back as our season sponsor!
APPROVED Cont. Education Credits

CFP

CPA

KY Legal

OH Insurance

PENDING Cont. Education Credits

OH Legal
Natalie Choate is a lawyer in Wellesley, Massachusetts. Her practice is limited to consultations on estate planning for retirement benefits. Her book Life and Death Planning for Retirement Benefits is a leading resource for estate planning professionals.
Miss Choate is a fellow and former Regent of the American College of Trust and Estate Counsel and former chairman of its Employee Benefits Committee. She serves as an editorial advisor for Trusts and Estates. Named "Estate Planner of the Year" by the Boston Estate Planning Council, she is listed in The Best Lawyers in America. The National Association of Estate Planners and Councils has awarded her the "Distinguished Accredited Estate Planner" designation.
Her articles on estate planning topics have been published in ACTEC Notes, Estate Planning, Trusts and Estates, Tax Practitioners Journal and Tax Management. Miss Choate has lectured in all 50 states, Canada, Puerto Rico, and the District of Columbia, and has spoken at the Heckerling, Notre Dame, California, and Southern Federal Tax Institutes, among others. Her comments on estate and retirement planning have been quoted in The Wall Street Journal, Money, The New York Times, Newsweek, Forbes, Financial Planning and Financial World.